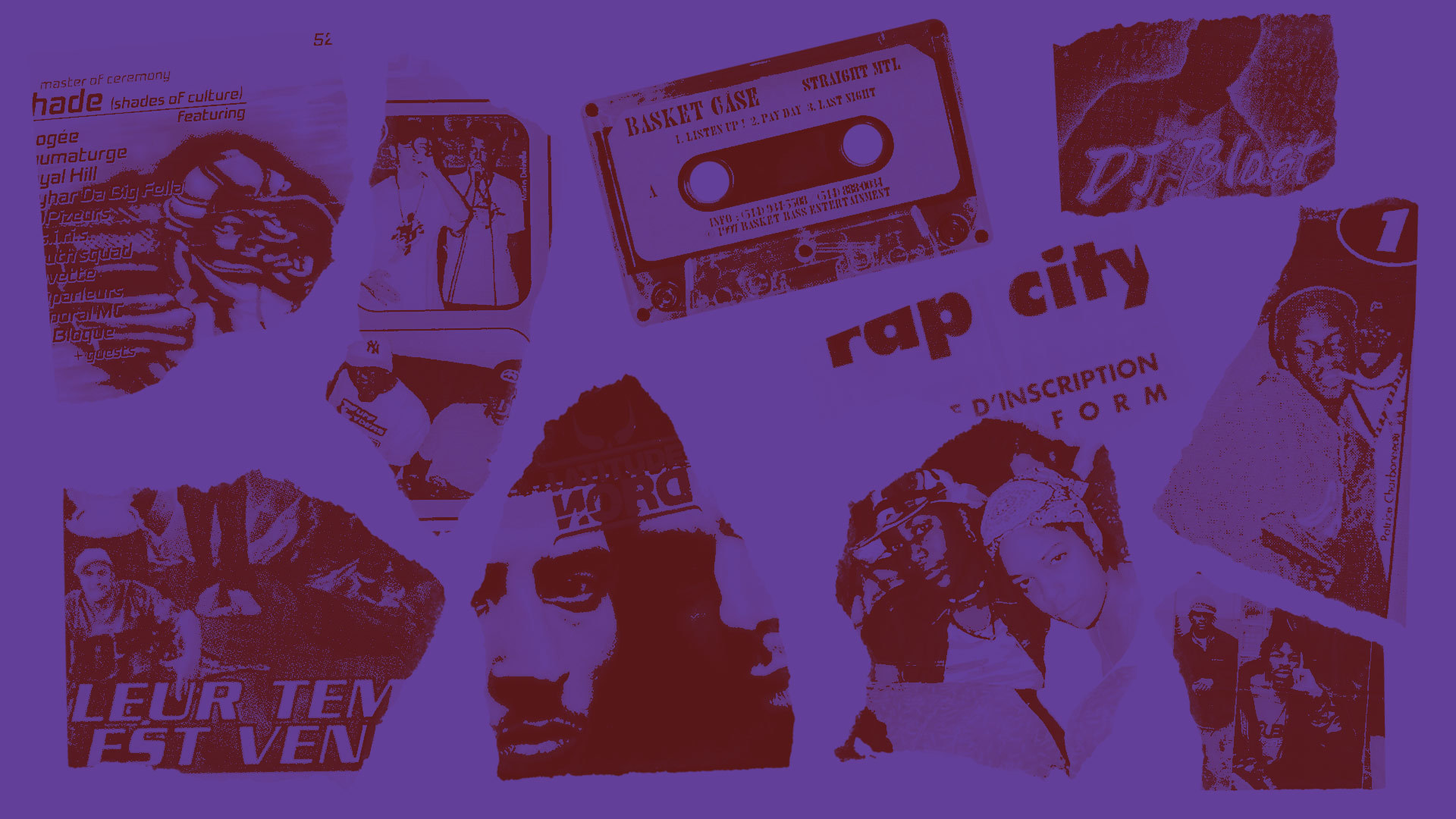 →

An Exhibition by Marven Clerveau: Visions Hip-Hop QC
Exhibition

Free

Contemporary Art

Society

Music
Tuesday, Wednesday, Thursday and Sunday: 10 am to 7 pm
*Last show is at 6:20 pm

Friday and Saturday: 10 am to 9 pm
*Last show is at 8:20 pm

Closed on Mondays
This event is part of the PHI Centre's free programming

Admission is free, but a reservation is required

For group reservations (10+), please contact our box office at [email protected]
Discover the hidden figures and stories of Quebec hip-hop.
An Exhibition by Marven Clerveau: Visions Hip-Hop QC is an art exhibition featuring a new series of works by twenty-six-year-old, Afro-contemporary artist Marven Clerveau. Clerveau takes us through a visual and audio journey discovering the artists and figures that have marked Quebec's unique hip-hop scene and culture through this new series of portraits.
The exhibition is curated by music historian and author Vladimir Delva. Delva illuminates the socio-historical context of how hip-hop has progressed in Québec and presents the exhibition in the following four themes:
1. Women In Hip-Hop
2. Entrepreneurial Development In Hip-Hop
3. Longevity In Genre
4. The Next Generation
x
featuring
20
x
original
artworks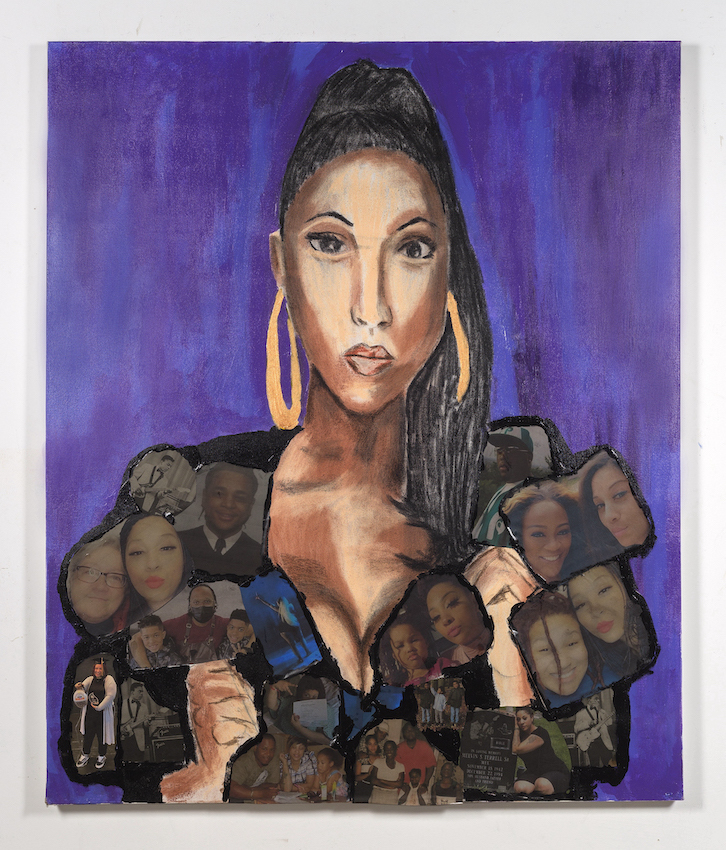 Through Visions Hip-Hop QC, the artist and curator take a unique, distinct, and innovative look at Quebec hip-hop artists and entrepreneurs from a multi-ethnic background.
Each painting in the exhibition reflects these individuals' atypical journeys through hip-hop and their entrepreneurial, artistic, educational, and professional evolution. With audio stories accompanying the installation, visitors can listen to the artists share their narratives and experiences in Quebec's hip-hop movement. 
In addition to the exhibition, there will be a series of ancillary events, including creative workshops for youth, panelled discussions, and an inter-generational music show featuring influential front-runners and emerging talent.
A WORD

FROM
x
THE
CURATOR
Nowadays, hip-hop culture is undeniably seen as the new pop, evident from the commercial success of artists such as JAY-Z, Cardi B, Lil Nas X, Drake, 50 Cent, J-Cole, Dr. Dre, and Kendrick Lamar. These artists are, in fact, omnipresent icons in the United States. In Quebec, such widespread recognition is slow to come for local artists. Most of Quebec's hip-hop artists remain unknown due to cultural appropriation, systemic racism, socio-historical falsification, artistic under-representation, and lack of media exposure. Over the years, many of these individuals who deserve to be known for their contributions to hip-hop's intercultural and social evolution have often been relegated to the background. Others have simply appropriated the culture by making it profitable for capitalist and individualistic purposes. The exhibition Marven Clerveau: Visions Hip-Hop QC was born in this context.
Through this show, Clerveau, winner of the Vivacité 2020 grant from the Conseil des Arts et Lettres du Québec (CALQ), shares the discoveries from his creative research project. As a neophyte of Quebec's hip-hop culture, he went on an adventure exploring this cultural movement over the last few years. Clerveau was unfamiliar with Quebec hip-hop, having been raised on American hip-hop by his uncle, a big fan of old-school New York rap.
Clerveau found inspiration to create the Visions Hip-Hop QC project at a commemorative event held in Montreal in honour of the singer Aaliyah. During this event, he designed portraits of American hip-hop artists, such as 2pac, Notorious B.I.G, Nas, and Ice Cube. In this context, Clerveau's professional advisor asked, "We're in Quebec; why don't you make an exhibition featuring portraits of Quebec rappers?
As a creative research project never done before, it posed challenges for Marven. Quebec media seldom featured these artistic personalities; however, Clerveau learned about the movement through various podcasts, including Rapolitik and Le temps d'un Jujube.
He then realized that several hip-hop artists admired by their cultural milieu were not part of Quebec's great history. Clerveau aims to immortalize these artists and entrepreneurs, who are victims of erasure and obliteration. To learn more about Quebec hip-hop, he called cultural entrepreneur Keithy Antoine, who introduced him to Les Boss du Québec, a book specializing in the musical movement.
Thanks to this book and the advice of its author, Clerveau was able to deepen his creative research project by meeting legendary and eclectic artists from the scene such as Webster, Tammy Tuesdayz, Dice-B, Jenny Salgado, Know Kandu, Warren Market, Rainmen, Moun Fou, Vladimir Bazile, Akshun Man, and DKC Freeze. He also had the opportunity to meet the managers of the biggest labels in contemporary Quebec hip-hop: Carlos Munoz, Steve Jolin, and David Dubé. They helped rappers from black communities benefit from corporate support for the commercial advancement of their artistic careers.
Clerveau noticed certain similarities between himself and several artists he decided to paint during his creative research. Like him, the figures in his paintings have overcome social marginalization, cultural appropriation, systemic racism, artistic underrepresentation, and ostracism. He wanted these untold stories of Quebec hip-hop artists and entrepreneurs of Caribbean, West Indian, and African descent to be known to the general public. These are portraits and stories of individuals who have greatly contributed to the evolution of interculturalism in Quebec from the 1970s to the 2020s. Clerveau's art demonstrates four key themes: entrepreneurship, artistic longevity, feminism, and intergenerational relationships. It's an immersive story to discover, presented to you through these twenty unique portraits!
— Vladimir Delva (Kapois Lamort), Guest Curator
THE CREATIVE TEAM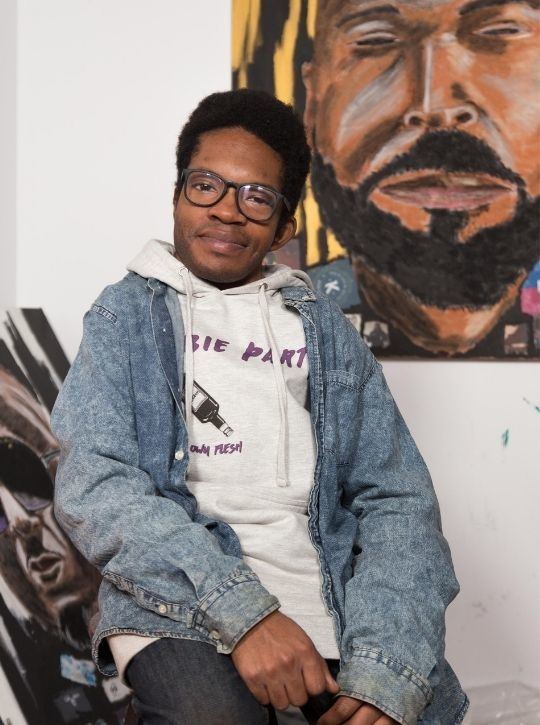 Marven Clerveau
Painter
Marven Clerveau is an Afro-contemporary artist who has evolved in the visual arts milieu for the past ten years. He is a member of Diversité Artistique Montréal (DAM) and was recently awarded the Bourse Vivaité by the Conseil des Arts et Lettres du Québec (CALQ). Marven Clerveau's artistic approach amalgams with Realist, Expressionist and Surrealist aesthetics. Throughout his career, he has been influenced by the works of Basquiat, Frida Khalo, and Andy Warhol.
Clerveau was primarily concerned with self-imposed silence and isolation in his earlier works. Having dealt with a speech impediment and scoliosis all his life, he gives space and expresses the right of belonging of atypical bodies and voices and their desire to exist through his art.
Painting has helped Clerveau discover who he is and be comfortable with his condition. His first series of paintings were about self-portraiture and self-identification; a metal rod attached to the spines of his figures, alluding to surgeries he has undergone in his past.
As an avid hip-hop fan and music fanatic, Clerveau shifts focus in this project to represent iconic figures that have impacted the four decades of Quebec's unique hip-hop movement. Quebecois hip-hop is a thriving, youth-driven scene that does not get proper visibility in mainstream media or major distribution platforms.

Photo Credit: ©alignements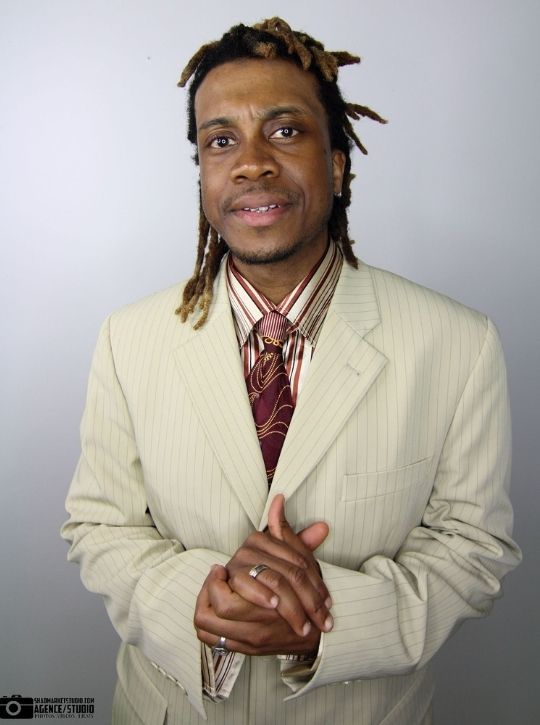 Vladimir Delva
Guest Curator
Vladimir Delva (aka Kapois Lamort) is a historian, writer, and hip-hop artist from Montreal's St-Michel neighbourhood. He is also the founder of Production Noire QC, a company working in the artistic, cultural, and literary world for fifteen years. Delva published Les Boss du Québec: R.A.P. du Fleur de Lysée, the first book focused on the socio-historical evolution of hip-hop in Quebec. With a degree in history from the University of Quebec in Montreal (UQAM), he has held various administration, research, and archiving positions for the City of Montreal, McGill University, and various non-profit organizations.
In addition, he was a teacher at the only Pan-Africanist school in Quebec, The Garvey Institute, where he taught history, geography, and mathematics. As a rapper, Delva produced the album Prélude mortel: emceeing à mort, and the singles "Gothisme de Jean-François Papillon" and "Gore Trap de Vixamar LeGrand." These songs honour the paradigm experienced by the revolutionaries of the Bois Caiman insurrection of 1791. As for the music video, "Alex Grant & George Bonga," in collaboration with Warren Market, is a tribute to the entrepreneurial history of Black people in Quebec. As a researcher, Delva recently collaborated with CBC Radio-Canada for the podcast D'où je viens : le rap d'ici and In Flux: Poetry Films with the PHI Centre. Several projects are currently in production for the latter.
Photo Credit: Shad Market Studio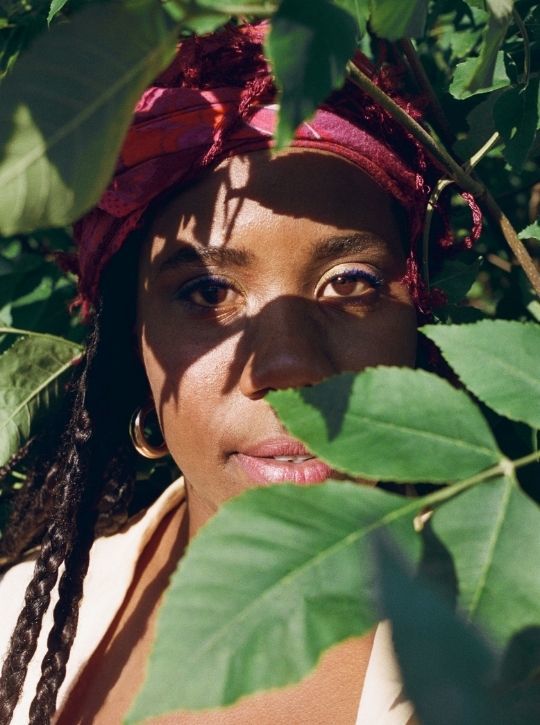 Gayance
Creative Producer
Gayance (pronounced "guy-ence") is a Creole word meaning "joy," an apt description for Aïsha Vertus' musical project, which is resolutely joyful. The Haitian roots of the DJ, producer and radio host are the driving force behind her sonic and spatial explorations. Her sets are a journey through Black music from the four corners of the world, delivered with unbridled energy.
Born and raised in Montreal North, Gayance began her musical journey in 2013 on a romantic whim, preparing a mixtape for her first love. Then more mixtapes and performances followed on radio stations, n10as and CKUT, which led respected local promoters to soon pick up on her eclectic taste. She began playing shows in the club circuit throughout Canada and has since torn through festivals and clubs in over 18 different cities on four continents.


Although she has edited and remixed other artists' productions, the pandemic allowed Gayance to explore her own projects. The result is the brilliant EP, No Toning Down, a confluence of broken beats, UK garage, Dillaesque, and Bossa Nova that has earned her praise worldwide. Shortly after, she released the single "Sirens feat. KALLITECHNIS," on Beautiful Music's first compilation, Beautiful Vol 1.
In 2022, Gayance will release a full-length album of original music and go on tour at home and abroad.

Photo Credit: Tess Roby
George Fok
Media Artist
George Fok (born in Hong Kong) is a media artist and creative synthesist with transdisciplinary practice. Based in Montreal, his oeuvre explores the intersection of immersive experience, speculative fiction and aesthetic consciousness, with the objective of re-enchanting the homogenized and rambunctious world of modernity. Fok's work has appeared in immersive shows, documentary and Hollywood films, and art institutions such as Musée d'art contemporain de Montréal, GL Strand & Nikolaj Kunsthal in Copenhagen, and The Jewish Museum of New York.
As the former Creative Director at PHI Studio, and as a firm believer in redefining creativity through collaborations, Fok frequently works in conjunction with other emerging and established talents such as choreographers, musicians, and fashion designers.

Marie-France Barbier
Programming & Creative Development
Marie-France Barbier works as a producer for PHI Studio developing original programming ideas destined for the PHI audience and beyond. Marie-France works at the intersection of cultural programming, creative development, and community development. Having studied Communications and Cultural Studies with training in television production, she is passionate about storytelling and inspiring creativity through collaboration and purpose.


Photo Credit: George Fok
VISIONS HIP-HOP MERCH
Visions Hip-Hop has partnered with AU COTON to bring you hoodie and crew necks with exclusive designs. On sale (purchase by credit/debit card only) at the PHI Centre during the exhibition's opening hours.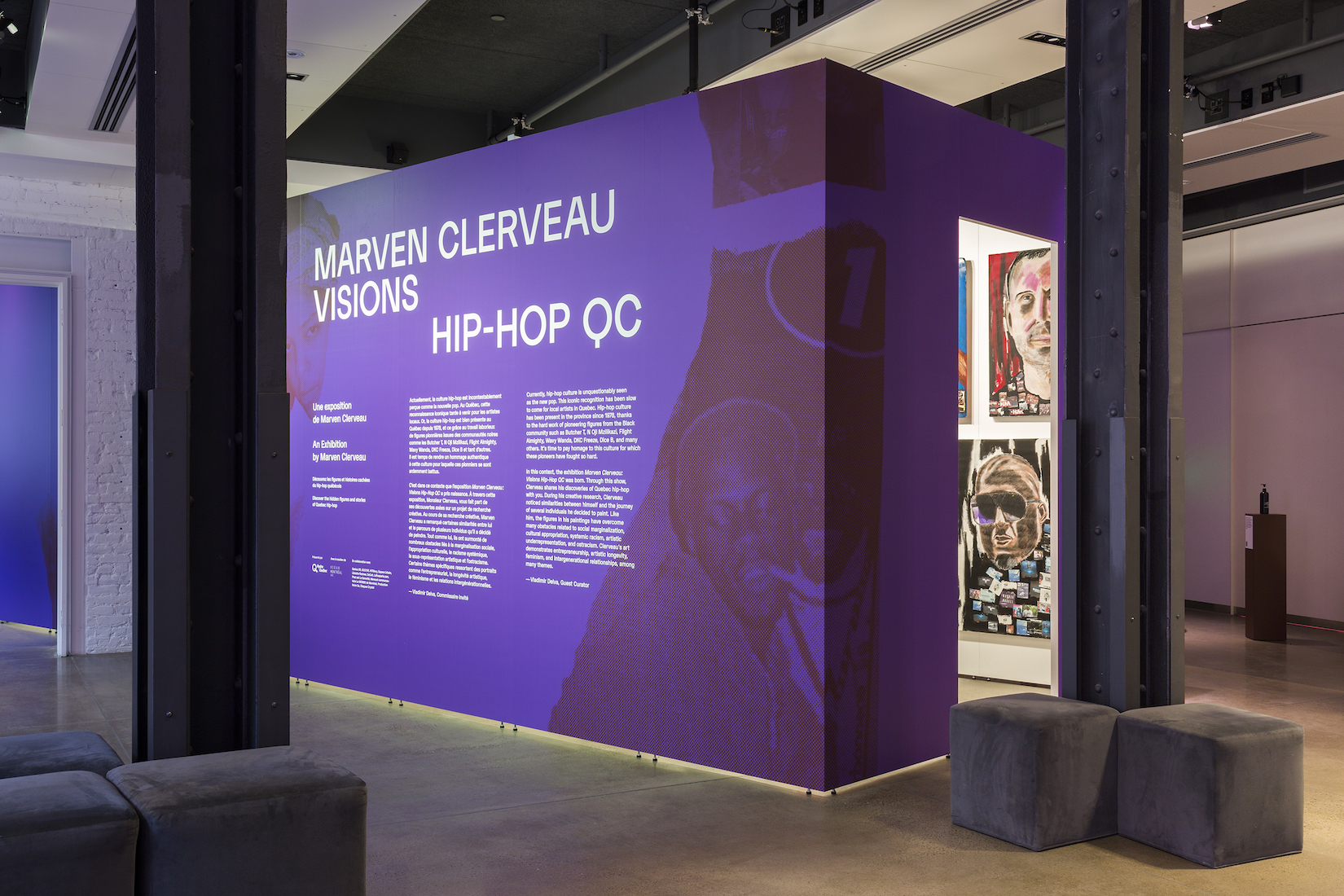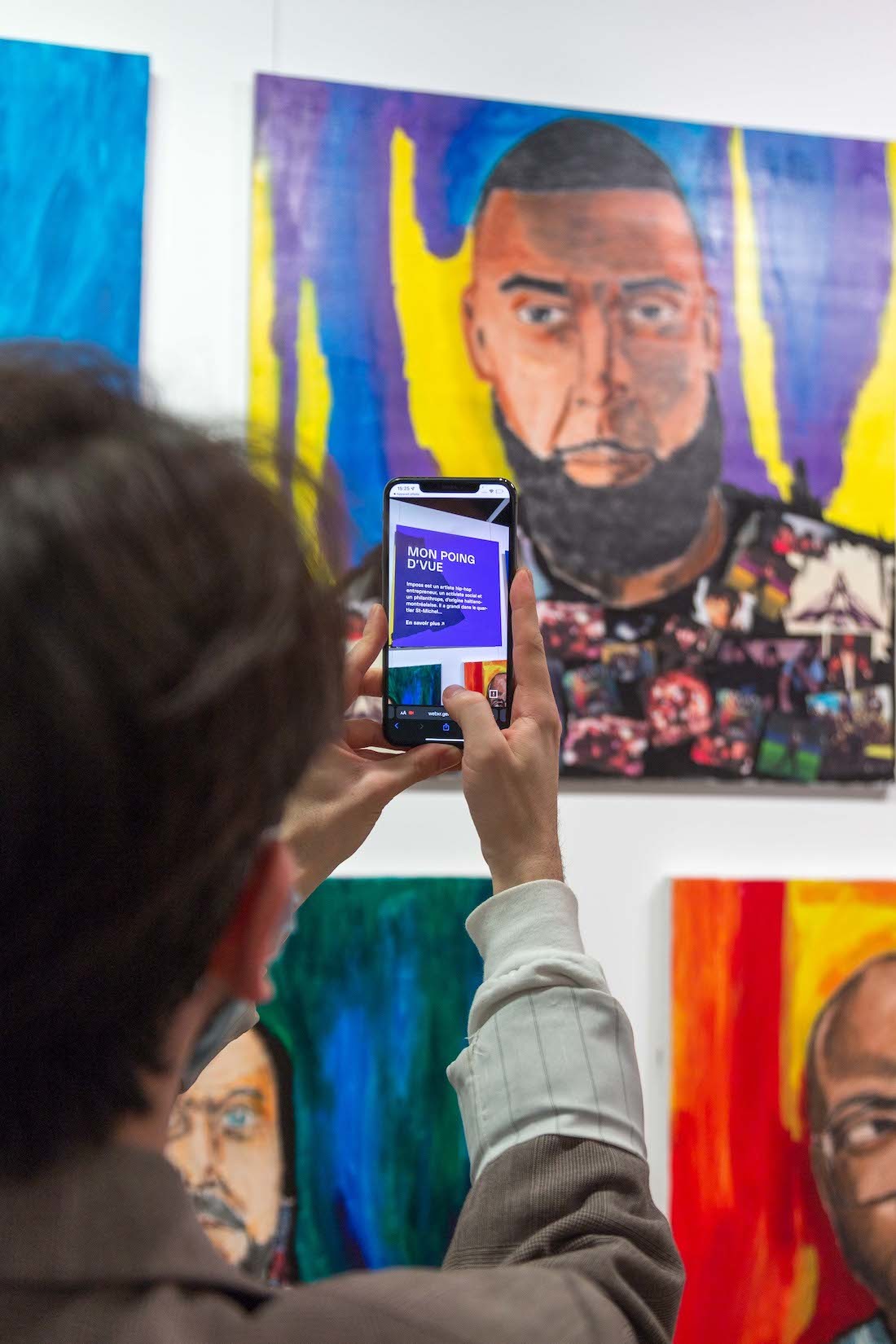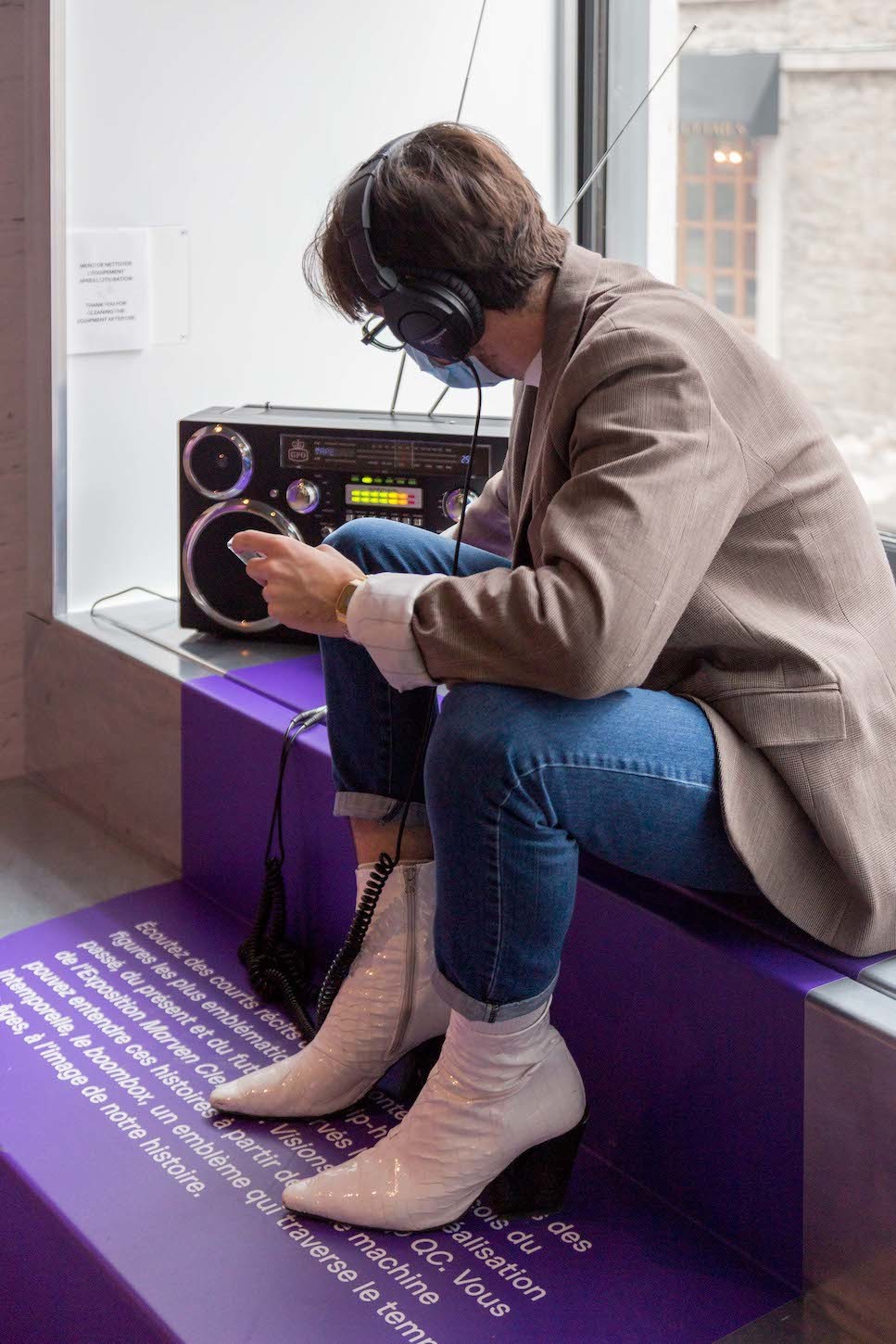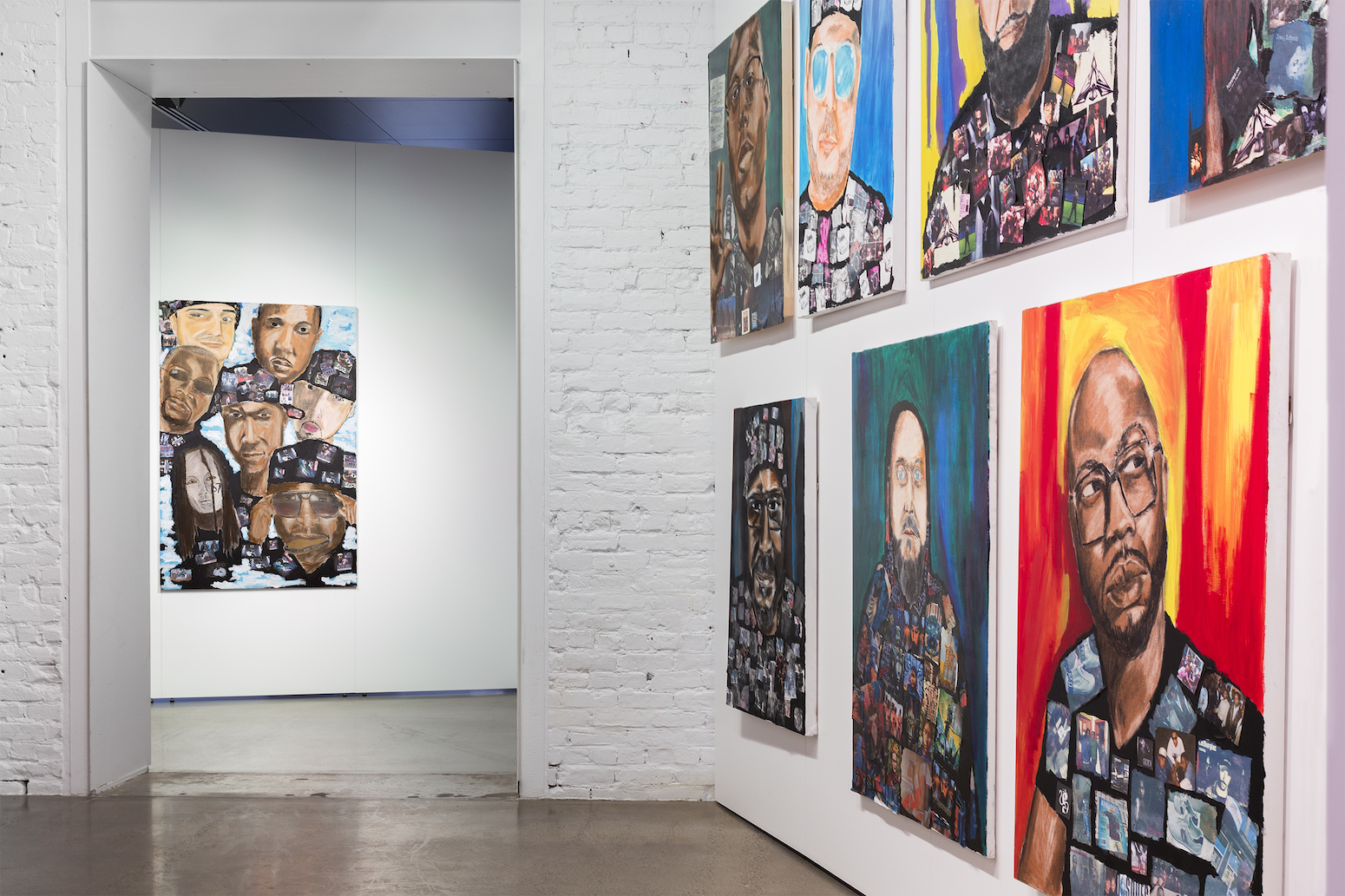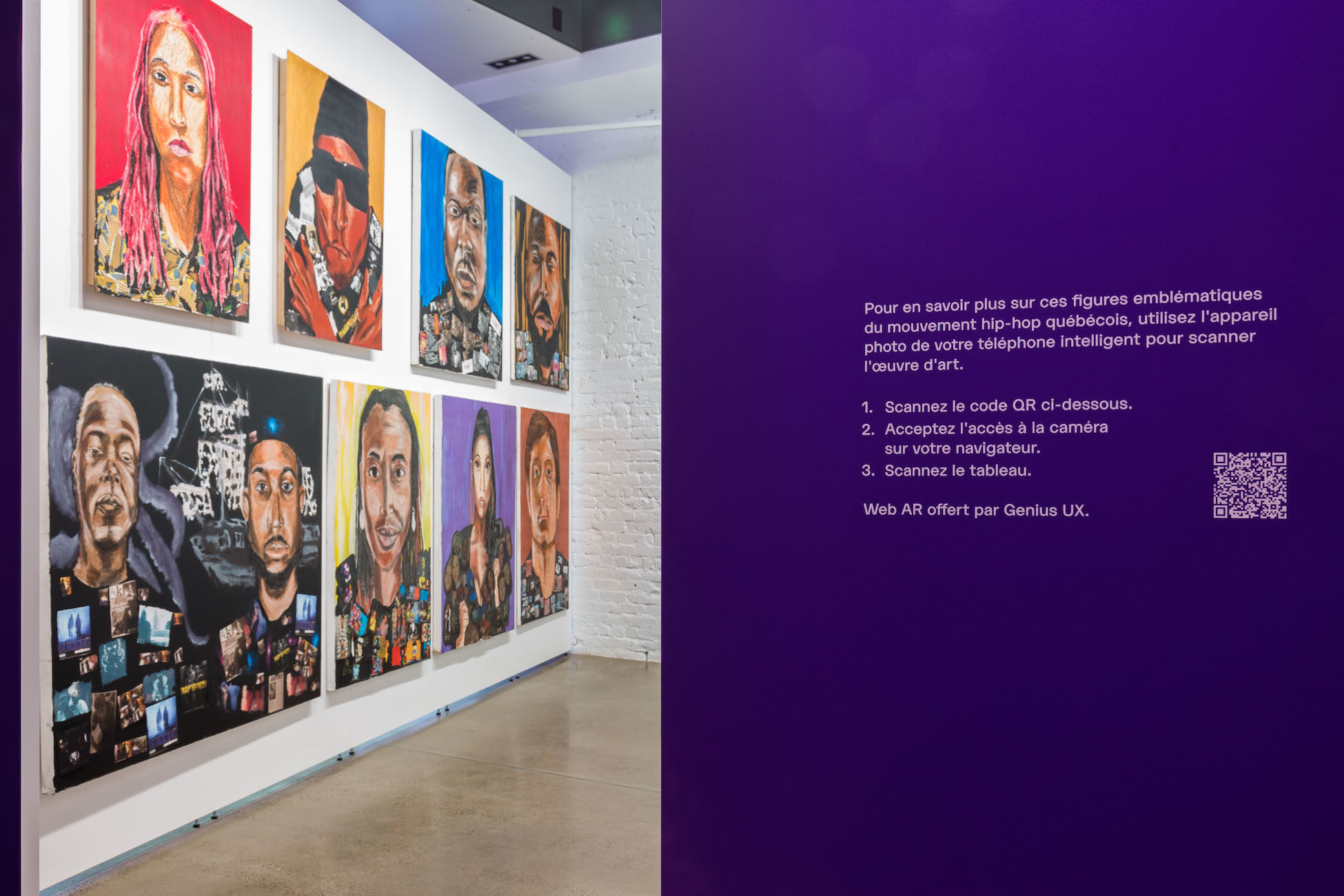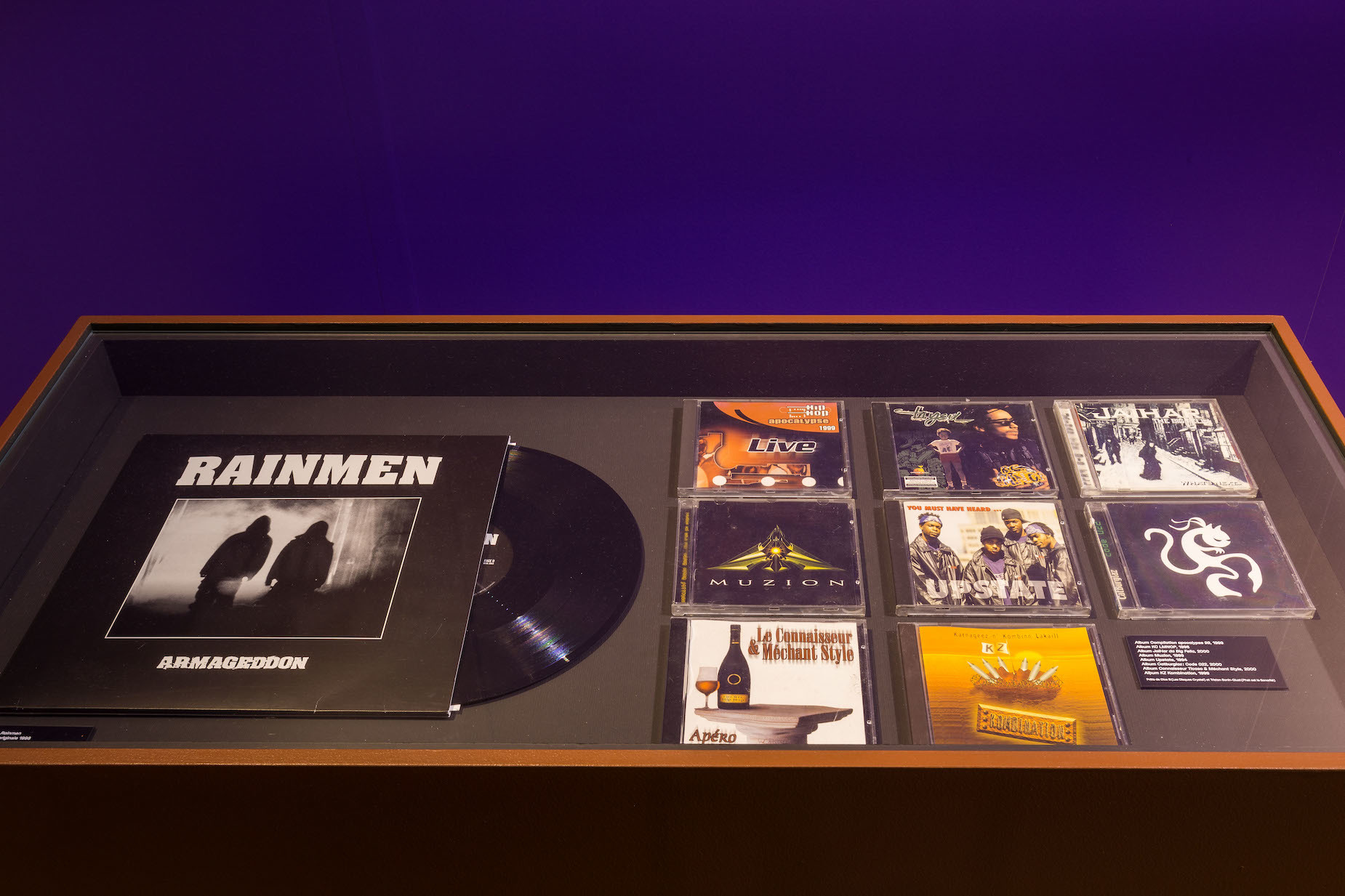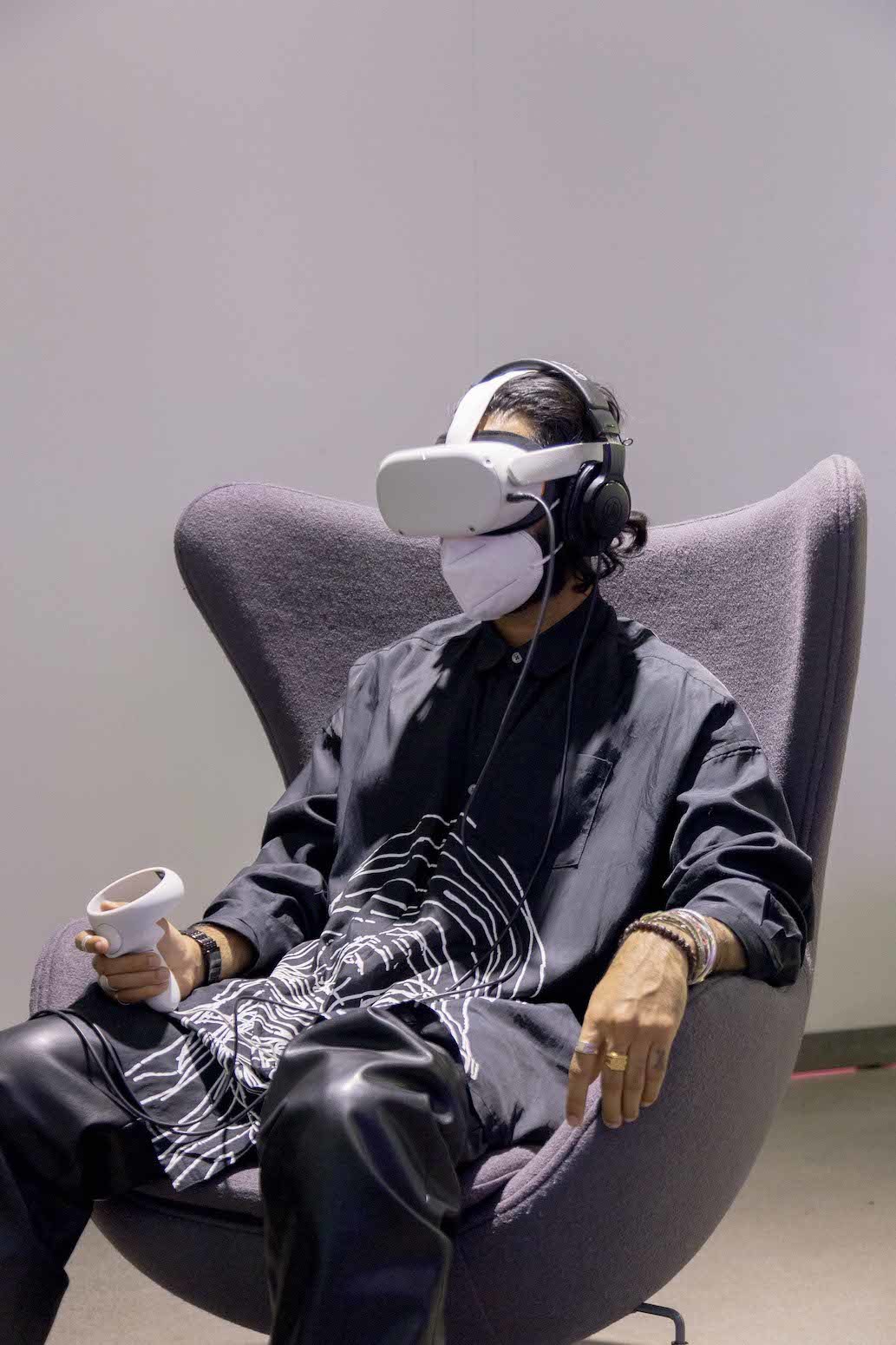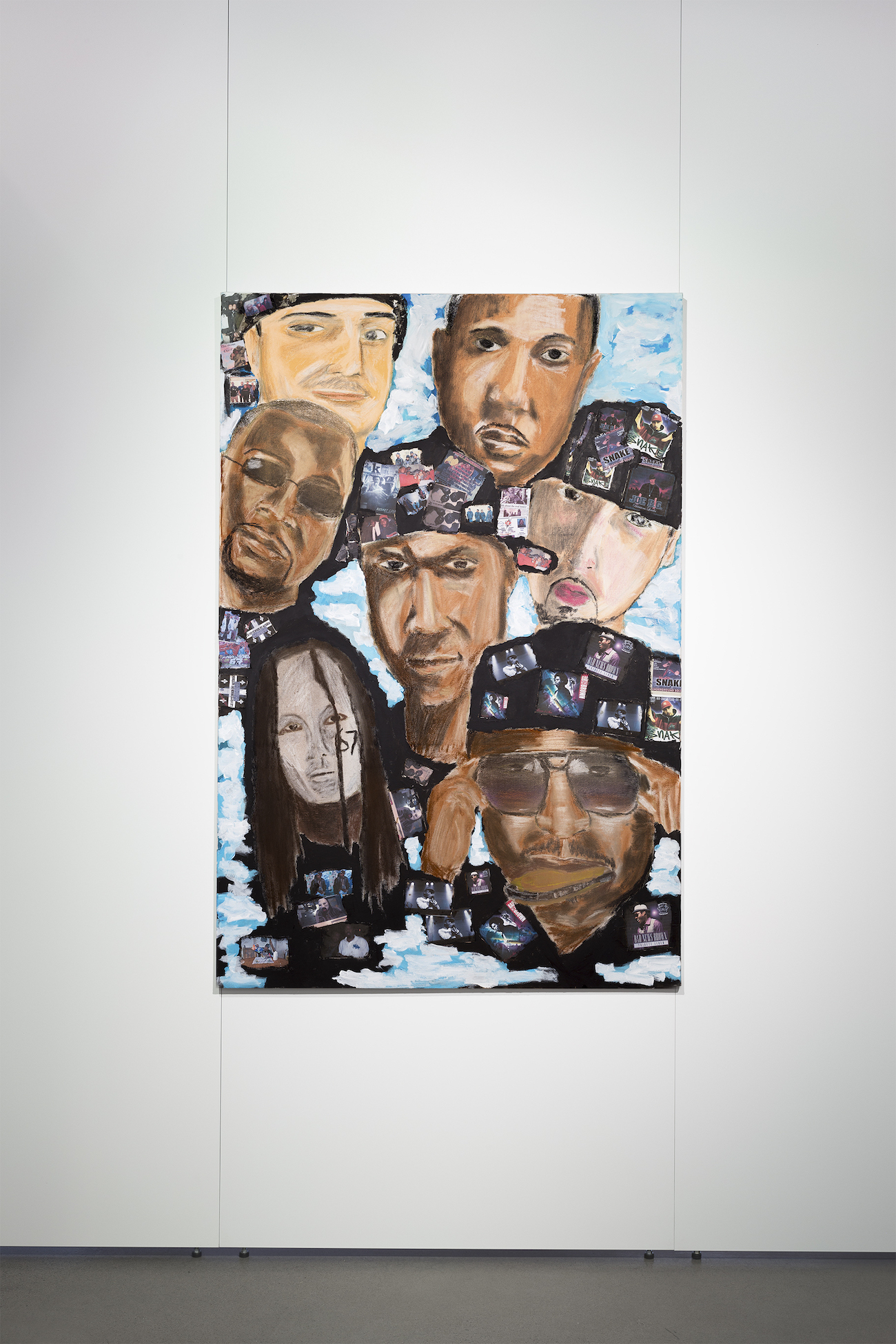 CREDITS
Concept
Marven Clerveau
Vladimir Delva




Co-created and produced by

PHI




Founder and Chief Creative Officer at PHI
Phoebe Greenberg


Creative Development, Strategy & Creative Direction
Marie-France Barbier
George Fok
Aïsha C. Vertus




In collaboration with
Genius XR
HITStory
QCULTR
Espace Urbain
Librairie Racines


Archival materials provided by
Patrice Charbonneau et Martin Delinelle
Courrier Ahuntsic
Guide de Montréal-Nord
François Barbe
Franzy Moise
Rickey D et Gary T
Warren Market
Phat est la Sonorité
Dice B


Special acknowledgement
Rito Joseph