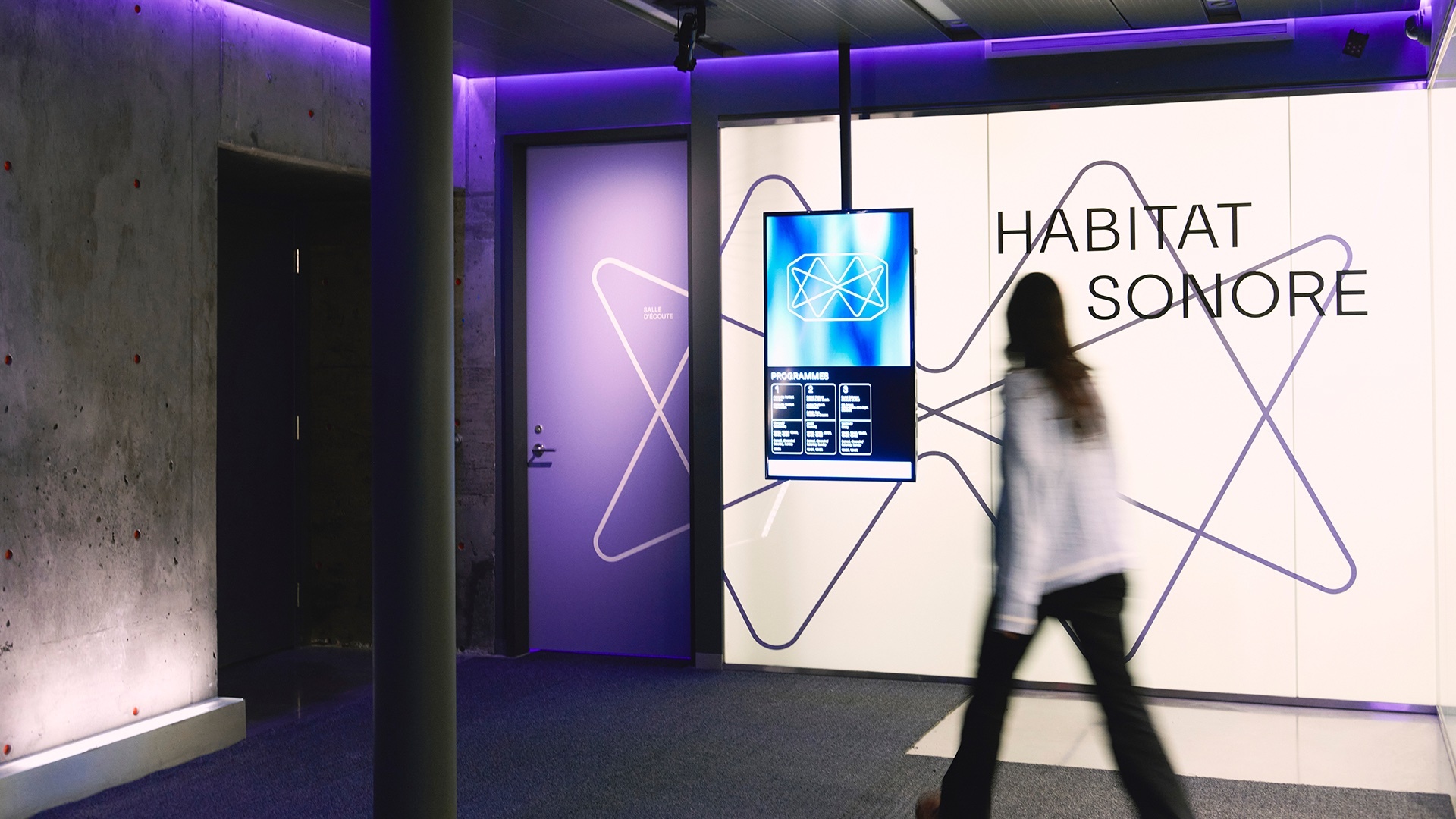 →

Habitat Sonore: Listening room
Experience

New Programming

Music

Immersion
Habitat Sonore: Listening room is in constant evolution. Please check back regularly to discover newly added artists and more time slot availability.
Enjoy the brand new programming of Habitat Sonore, the immersive listening room at the PHI Centre.

Tune out the everyday noise and lose yourself in Montréal's new immersive listening room.

Montréal's new immersive listening room
The hectic pace of contemporary life offers us very few opportunities to take the time to slow down and listen. So often, the soundtrack of our daily lives turns out to be particularly chaotic or even harmful to our mental and auditory health.
We believe it's essential to offer our visitors a sanctuary, a permanent refuge, where they can take the time to listen, appreciate, and discover sound in all its forms.
Welcome to Habitat Sonore.

---
An invitation to sound immersion
This space is an invitation to sound immersion. PHI welcomes you to an intimate and relaxing environment where you can discover sound in all its forms—from sound baths to short audio films and music albums to chromotherapy. Enjoy a wide variety of poetic, meditative, and performative content.
Habitat Sonore was designed to be as technically flexible as possible, prioritizing the utmost sound quality. The sound system consists of a 16 speaker multichannel array powered by a high-end JBL pre-processor. The space allows the playback of several commercial immersive formats and can also be used as an "instrument" for artists to explore spatialization possibilities. Habitat Sonore is a place that offers multiple creative opportunities for collaboration, mediation, and experimentation.

---
An experience to be shared
Habitat Sonore is a communal space that encourages shared listening with others. Invite your friends and loved ones to experience a riveting piece of sound together.
MUSIC ALBUMS IN SPATIAL AUDIO
Artists: Jean-Michel Blais, Tanya Tagaq
Aubades
Jean-Michel Blais
"The spatialized listening of aubades reproduces its recording context so faithfully that it immerses an attentive listener in the very heart of the chamber orchestra: the powerful brass responds to the graceful piano, while the winds and strings dialogue with each other, in my opinion, this is the best way to enjoy this album."
thanks for thinking of us, JMB
Credits:
Album by Jean-Michel Blais
Courtesy of Arts & Crafts Productions Inc.
---
Tongues
Tanya Tagaq
This album enters deep chasms and dangerous spaces. Tongues speaks not to horrors and crisis, as previous Tagaq albums wordlessly, powerfully encircled, but directly of these things.

Tongues is a manual for inner and outer revolution, a victory over those who take without consent.
Credits:
Produced by Saul Williams and mixed in Dolby Atmos by Vic Florencia
Mastering Engineer: Justin Grey

Ecological Ambisonic Recording 004
James Benjamin
James Benjamin's Ecological Ambisonic Recording 004 is set on the Pacific slope of the Talamanca Mountains in Costa Rica, which is the buffer zone between La Amistad International Peace Park and its Biosphere Reserve. The area is a habitat for Costa Rican wildlife, and a crucial jaguar migration corridor.
This experience allows participants to step into the Costa Rican rainforest with the ambisonic B format recordings recreating an immersive sphere of sound for listeners. This iteration of the experience edited and encoded for the PHI Centre spatial listening room compresses a 24 hour period in the rainforest into 24 minutes composed of 1 minute from each hour of the day.
An accompanying limited edition vinyl album features excerpts of 5AM and 5PM in the rainforest mixed down to stereo and mastered for vinyl playback.

The project's visual elements and graphic design of accompanying vinyl albums by Danica Olders.

Theatre of Dreams
Debbie Doe
Born in Montreal to a Lebanese family, Debbie Doe is a sound artist living and working in Montreal. Their practice has been influenced by spiritual journeys, which embody a cinematic and theatrical feel. As they seek new creative methods and techniques, they are developing an approach to immersive compositions in which they tend to create intimate sonic explorations that engage the listener in fictitious worlds. They are also intrigued by the aural images that could be elicited by enabling a deep listening mode through the use of electronic hardware, soundscape recordings, and voice.
CONTEMPLATIVE PIECE
Artist: Louis-Olivier Desmarais
PAX
Louis-Olivier Desmarais
Paysages presents PAX, an invitation to celebrate listening, meditation and contemplation away from the hustle and bustle of everyday life.
Sound artist, Louis-Olivier Desmarais, creates an immersive experience born of his past visits in the silent atmosphere of a Benedictine abbey.
PAX is an invitation to enter oneself by listening to what surrounds us.
---
Louis-Olivier Desmarais:
A Montreal-based sound artist, Louis-Olivier Desmarais likes to play with sound in all its forms: musical compositions, installations, radio, listening experiences. His sound and musical work is mainly rooted in a writing style where oscillations between reality and imagination serve as a springboard for the elaboration of poetry through sound. His works seek to create bridges between sound and spirituality, while striving to imagine new ways of conceiving the sacred. He is particularly interested in immersion as a means of encouraging entry into oneself and the creation of environments conducive to appeasement and contemplation. Louis-Olivier's work has been recognized internationally (Phonurgia Nova, RTBF, Gulliver Grant, Festival Longueur d'ondes). He has also received grants from the Canada Council for the Arts, the Conseil des arts et des lettres du Québec and the Conseil des arts de Montréal.
The collective:
Paysages is a collective of artists and a multimedia creation studio specialized in audio and video production, immersive and contemplative sound experiences. Founded in 2020 by sound artist Charles Montambault and video artist Daniel Boisclair, Paysages uses digital technologies to create spaces of tranquility and relaxation while enhancing the atmospheric identity of a place.

SCHEDULE
Program 1 | 60 minutes 
PAX

Program 2  | 58 minutes
Tanya Tagaq: Tongues
James Benjamin: Rainforest

Program 3 | 52 minutes
Jean-Michel Blais: Aubades
Debbie Doe: Theatre of Dreams
Wednesdays and Saturdays
12 PM: Program 1
1:30 PM: Program 2
3 PM: Program 3
4:30 PM: Program 1
6 PM: Program 2
---
Thursdays and Sundays
12 PM: Program 3
1:30 PM: Program 1
3 PM: Program 2
4:30 PM: Program 3
6 PM: Program 1
---
Fridays
12 PM: Program 2
1:30 PM: Program 3
3 PM: Program 1
4:30 PM: Program 2
6 PM: Program 3
Music is at the heart of the programming


We want to offer a new way of appreciating the local and international musical landscape by proposing a different kind of auditory experience beyond stereo listening. The space will feature a range of programming across different mediums including:

→ Musical albums
→ Performances
→ Sound baths
→ Short audio films
→ Chromotherapy
→ Deep listening
→ Immersive sound
→ Ambisonic music and sound
A varied experience
There are many different ways to experience sound, whether in a communal environment or for individual listening.
A sound bath is a deep, immersive, whole-body listening experience that intentionally uses sound to nourish therapeutic and restorative processes of the mind and body.
Chromaesthesia or sound-colour synaesthesia is a type in which sound evokes an experience of colour, shape, and movement.
Deep listening explores the relationships between all sounds, whether natural or technological, intended or unintended, real, remembered or imagined. It's also a state of mind, similar to meditation, that allows for a deep appreciation of a work or sound environment.
The acoustic environment—the sounds we find in the natural environment, amongst flora and fauna, and the unintentional sounds found in man-made environments (technology, machines, cities). It can also refer to the intentional sounds found in music, generally referring to creations in ambient electronic or electroacoustic music.
An "immersive" experience completely envelopes the visitor or participant in another reality, sensory or narrative. In sound, it is a sonic representation of a virtual space.