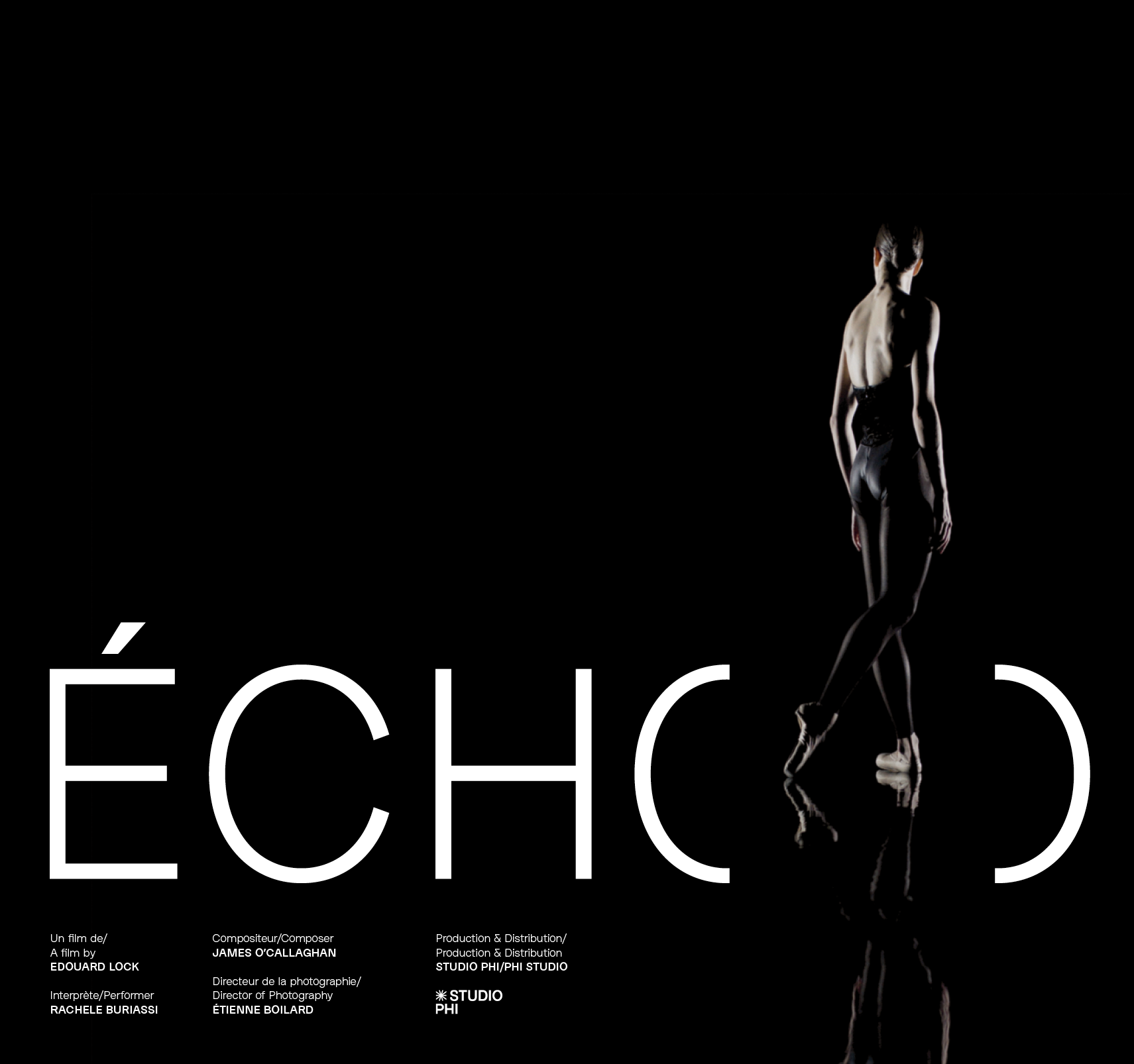 ÉCHO
A film by Edouard Lock
From

Produced in 2020

Location

Filmed in Montreal, Quebec
A 25-minute choreographic and cinematic composition of shadows, light, movement and original music.

ÉCHO, is a new work created and directed by world-renowned choreographer and visionary, Edouard Lock. Interpreted by Principal dancer of Les Grands Ballets Canadiens, Rachele Buriassi, and produced by PHI Studio, ÉCHO is a work intertwined in reflections and immersed in a cinematic night. Mirrored approximations ebb along surfaces like shadow on water as a ballerina peers into herself, her memories floating up, around and under her, with each leading to a different trail and a different outcome. One shared beginning, one source, one end, multiple echos.

Edouard Lock directs and choreographs. Rachele Buriassi dances, the rhythm and cadence of her movements flowing through the choreography like wind in grass as James O'Callaghan's score resonates with both dissonance and harmony, cooling every image that passes through his precise and evocative score.
A world where illusion and dance are derived from feelings of solitude during the first wave of confinement.

Credits
Direction and Editing: Edouard Lock
Choreography: Edouard Lock
Performance: Rachele Buriassi



Composer: James O'Callaghan
Director of Photography: Étienne Boilard
Costume Designer: Melanie Ferrero
Sound Designer: Philippe Rochefort



Executive Producer: Émilie Heckmann
Producer: Phoebe Greenberg
Line Producer: Isabella Salas
Production Director: Vlad Doclin

First Camera Assistant: Marianne Ploska
Steadicam Operator: Kes Tagney
Set Photographer: Sean Mollit
Lighting Designer: Hervé Holdrinet
Lighting Technician: Alexis Landriault
Operator: Jean Michel Lacasse
Sound Recordist: Julien Lapszynski



Costume Assistant: Joel Boudreault
Makeup Artist: Sarah Heft
Hair Stylist: Catherine Levesque



Stage Manager: Patrick Zaloum
Stage Production Assistants: Justine Pelletier and Karl Raymond



Caterer: Solène Thouin

Post-Production Supervisor: Isabella Salas
Post-Production Support: Marc Morissette
Online Editor: Edouard Lock
Editing Assistants: Vjosana Shkurti and Charlie Poirier-Bouthillette
Film Colorist: Cluster Film
Sound Mix: Philippe Rochefort
Foley Artist: La Hacienda Creative - Brian d'Oliveira



Music by: James O'Callaghan
Performed by: Ensemble Paramirabo
Alto Flute: Jeffrey Stonehouse
Clarinet: Victor Alibert
Violin: Geneviève Liboiron
Cello: Viviana Gosselin
Piano: Daniel Áñez
Percussions: David Therrien-Brongo
Record Label: Ravello Records


Special thanks to:
Benoit Belanger, Guiseppe Canale, Lisa Davies, Marlyn Kress, Guylaine Massoutre, Fred Shahrabani and Maia Shahrabani



Production, distribution and international sales:


Our Partners