THE INFINITE
A multisensory & interactive virtual reality experience: the most ambitious one Montreal has ever seen aboard the International Space Station

For more information about THE INFINITE's safety measures to protect against COVID-19, please read our safety promise.
Fewer than 250 humans have been to the International Space Station in the last twenty years of its existence.

Now it's your turn.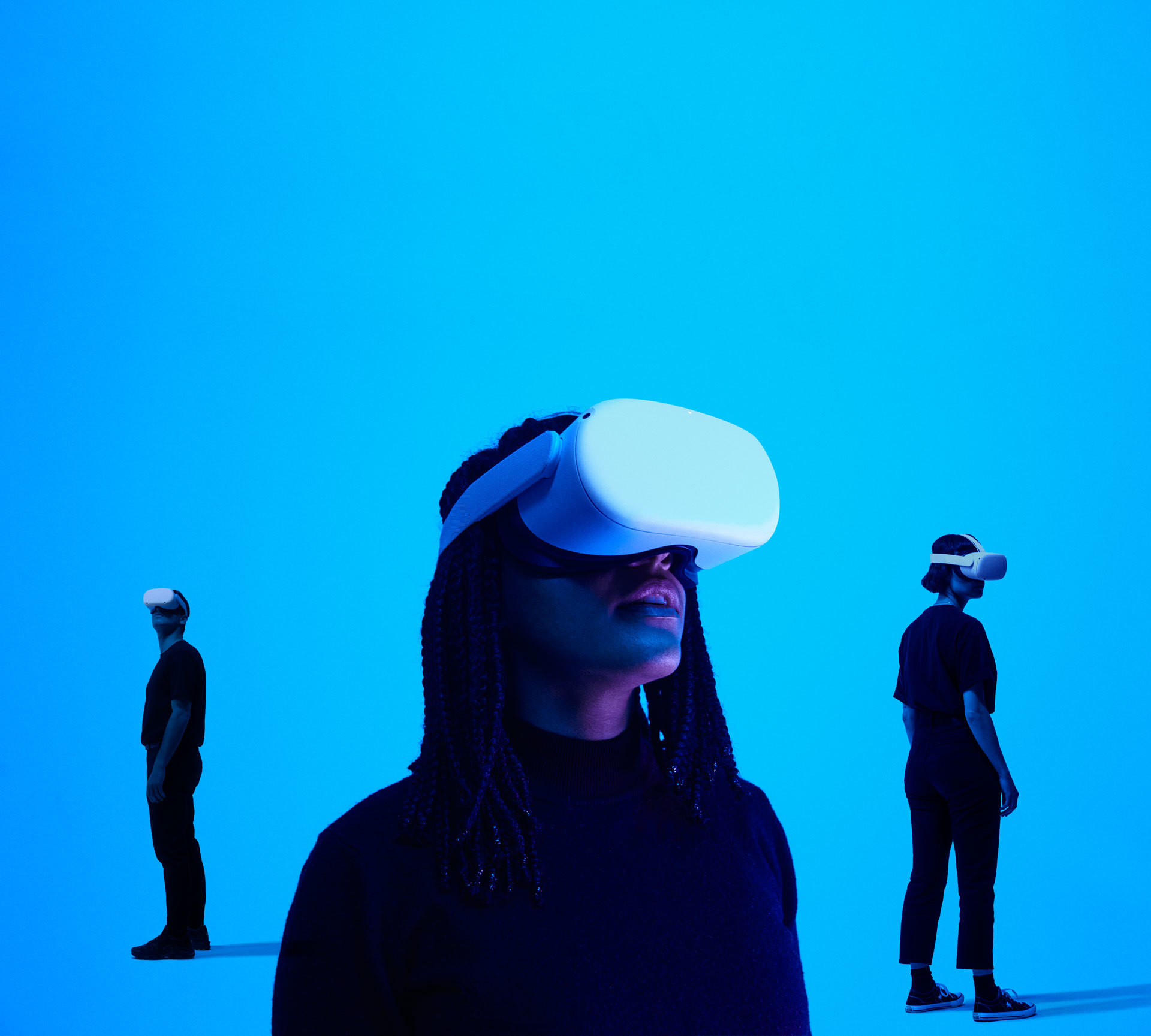 THE INFINITE is an unforgettable journey into space where several mediums (virtual reality, augmented reality and projections) collide with exceptional realism in an experience that lasts 60 minutes.

On your voyage, you will be a valued member among the crew of international astronauts, taking part in an epic, emotional and inspiring adventure. Discover never before seen footage captured by the astronauts for Space Explorers: The ISS Experience—the largest production ever filmed in space, produced by Felix & Paul Studios in association with TIME Studios, NASA and the ISS National Lab. The emotional ascent of the experience also includes an exclusive work by Ryoji Ikeda, formed by an LED ceiling and mirrored floor. The pitch black expanse, feeling of weightlessness and even the sensation of vertigo will be at the heart of this chapter.

Leave Earth and see it from a whole new perspective. In a time where international collaboration is becoming more and more necessary, the lessons and human values that guide each space mission encourage us to reflect on the actions that will ensure the sustainability of our planet Earth.
It's time to become an astronaut and board the International Space Station!

Ready for blast off?
The journey is going to be out of this world.
Roam space in a way you've only dreamed of
1 HOUR
Experience the freedom of outer space on an interactive 60-minute journey.

1:1
Explore a 1:1 scale immersive wire-frame 3D model of the International Space Station.
200 HOURS
View moments selected from over 200 hours of never before seen 360° footage filmed aboard and around the International Space Station.
12,500 sq. ft.
Navigate through seven separate zones in a space totalling 12,500 square feet.
Redefining the immersive exhibition experience
Virtual Reality
Experience life on the International Space Station as if you were there with amazing access to personal moments filmed in cinematic 3D, 360° format by the 8 astronauts who live aboard.
Free-Roaming
Pushing the limits of free-roaming virtual reality technology, freely explore a life-sized reproduction of the International Space Station. Share your experience with family and friends as you navigate interactive content—shaping your personal journey along the way.
Immersive Art
Discover the hidden poetry of life amongst the stars and be mesmerized by a mind-expanding audiovisual installation from world-renowned Japanese artist Ryoji Ikeda.
Multisensory
Awaken all your senses and envelop yourself in the contemplative soundscapes and dynamic light design of a futuristic infinity room, where even your sense of smell participates in the experience.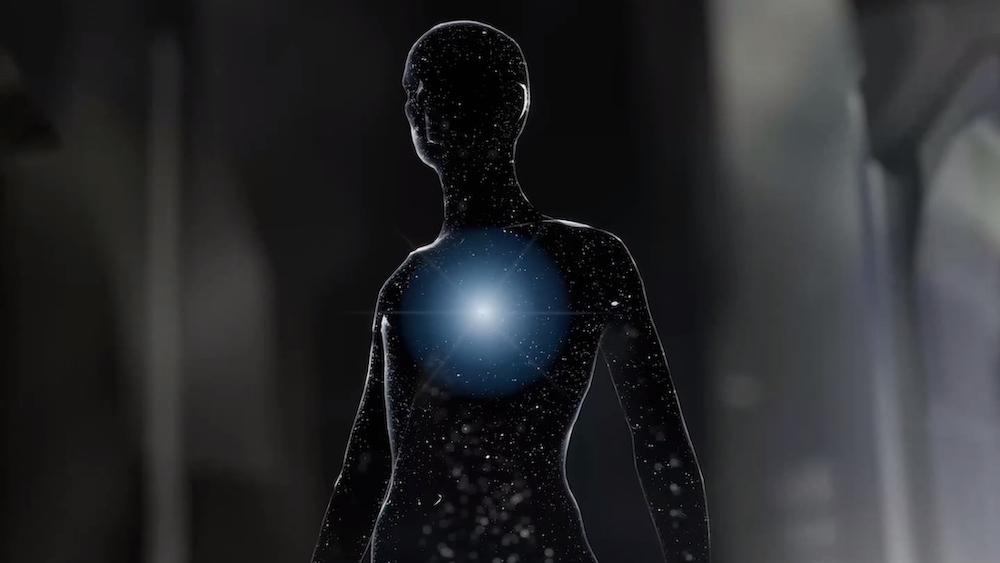 Embark on an awe-inspiring journey to outer space and back
THE INFINITE is a full-body immersive journey featuring seven distinct chapters layered with multisensory content to recreate the expedition of an astronaut.

Your voyage starts the moment you begin onboarding. From there, set off to discover the International Space Station and the experiences of the astronauts who live there, pass through a wormhole, and then gently drift back down to Earth and its lush natural environment.
Visitors assemble in a room. A light and sound installation—as if something's happening outside the walls—begins. Unseen lights reveal a passage. A second door opens and visitors are invited to follow the light.
Visitors take possession of their VR headset. Their ascension to the ISS awaits.
Space exploration begins. Visitors are invited to freely explore the ISS and its contents.
Visitors will finally get to see the blue immensity that is our Earth in front of their very own eyes—a point of view that is only accessible to astronauts.
Visitors enter a black square room where they can experience The Universe within the Universe. The pitch black immensity, the feeling of weightlessness and even the sensation of vertigo will be at the heart of this zone.
Visitors enter an "infinity room" corridor that includes video and sound, representing a return to Earth through a wormhole.
Visitors are welcomed in a dark and lightly fragranced room, shaped like a truncated pyramid, where all of their senses are awakened.
Gain a sense of infinity
Ryoji Ikeda
Created especially for THE INFINITE experience, Ryoji Ikeda's new audiovisual installation The Universe within the Universe explores the hidden facets and structures of nature. Visitors enter a black square room with an LED ceiling and mirrored floor. The pitch black immensity, feeling of weightlessness and even the sensation of vertigo will be at the heart of this chapter.
Weekdays
From Tuesday to Thursday
10 am to 7 pm
Adults → $40
Children* (8 to 12) → $10
Students (13+) → $28
65+ → $35

Groups (10 people+) → $35 per person

Weekends
From Friday to Sunday
10 am to 8 pm
Adults → $50
Children* (8 to 12) → $12
Students (13+) → $35
65+ → $42

Groups (10 people+) → $42 per person

Tickets will be on sale until September 5, 2021. Due to the COVID-19 pandemic, we will add the fall dates according to the new health guidelines.

---
Important information:
Virtual reality is not recommended for children under 13 years old. *Children ages 8 to 12 will not be allowed to use the virtual reality devices but can still share in the experience by using a tablet.
Children under 8 years old will not be admitted.
The virtual reality experience can cause discomfort for some people. It is not recommended for individuals with claustrophobia, heart conditions, with a history of seizures or epilepsy, and/or sensitivity to flashing lights.
The experience is presented in English with French subtitles.
The exhibition is presented at Arsenal Contemporary Art Montreal.
Please arrive on time. By selecting your time slot, your experience can begin within 15-20 minutes of your ticket time.
Paid parking is available (limited number of spaces).
What People Are Saying
"An experience that is expected to be impressive."

Éric Clément, La Presse
"PHI has become an absolute nerve centre for immersive experience offerings. An expertise that is truly recognized throughout the world."

Eugénie Lépine-Blondeau, Radio-Canada
"The largest virtual reality exhibition to date will be presented in Montreal on July 21. This Quebec creation that marries art and science is much more than a technological showcase."

Maxime Johnson, L'actualité
"The first images of The ISS Experience are breathtaking. The viewer is literally placed on board the International Space Station, with the exact same viewpoint as the astronauts there on board. Exceptionally clear images."

Jean Siag, La Presse
"I'd read about moments like these from famed astronauts like Apollo 14's Edgar D. Mitchell—epiphanic moments where the majesty of our homeworld and its tiny place within the cosmos smacks you dumb with awe and steals away your speech. This is the impact of episode one of Space Explorers: The ISS Experience."

Joseph Volpe, Mashable
"Perhaps the greatest spot in the greatest flying machine ever built is the cupola—the seven windowed downward-facing dome—in the International Space Station. It's there that astronauts can see the magnificence of the planet below them and the signs of the highly technological species—the lights of the cities, the contrails of the airplanes—that sent them to space in the first place. It's also there, that astronauts can appreciate that humanity can be 'united by the dream of exploration and accomplishment, rather than being united by fear.' "

Jeffrey Kluger, TIME
"This purely real footage made me feel even more connected with our Earth, even while I was inside a virtual visit in a space station over 400 kilometers from my living room...But it may be a different emotional experience when you know for sure that every single detail happened in reality in the moment you are standing in. Visitors truly witness history in that way."

Laura Mingail, Upload VR
"It's a really, really incredible project. [...] We want to go beyond the simple scientific fact and bring in poetry, history, contemporary art. Phoebe Greenberg [from PHI] is behind it, of course. [...] It will be the first time that the general public will be able to see an image of the Earth, a virtual reality image."

Catherine Richer, CBC/Radio-Canada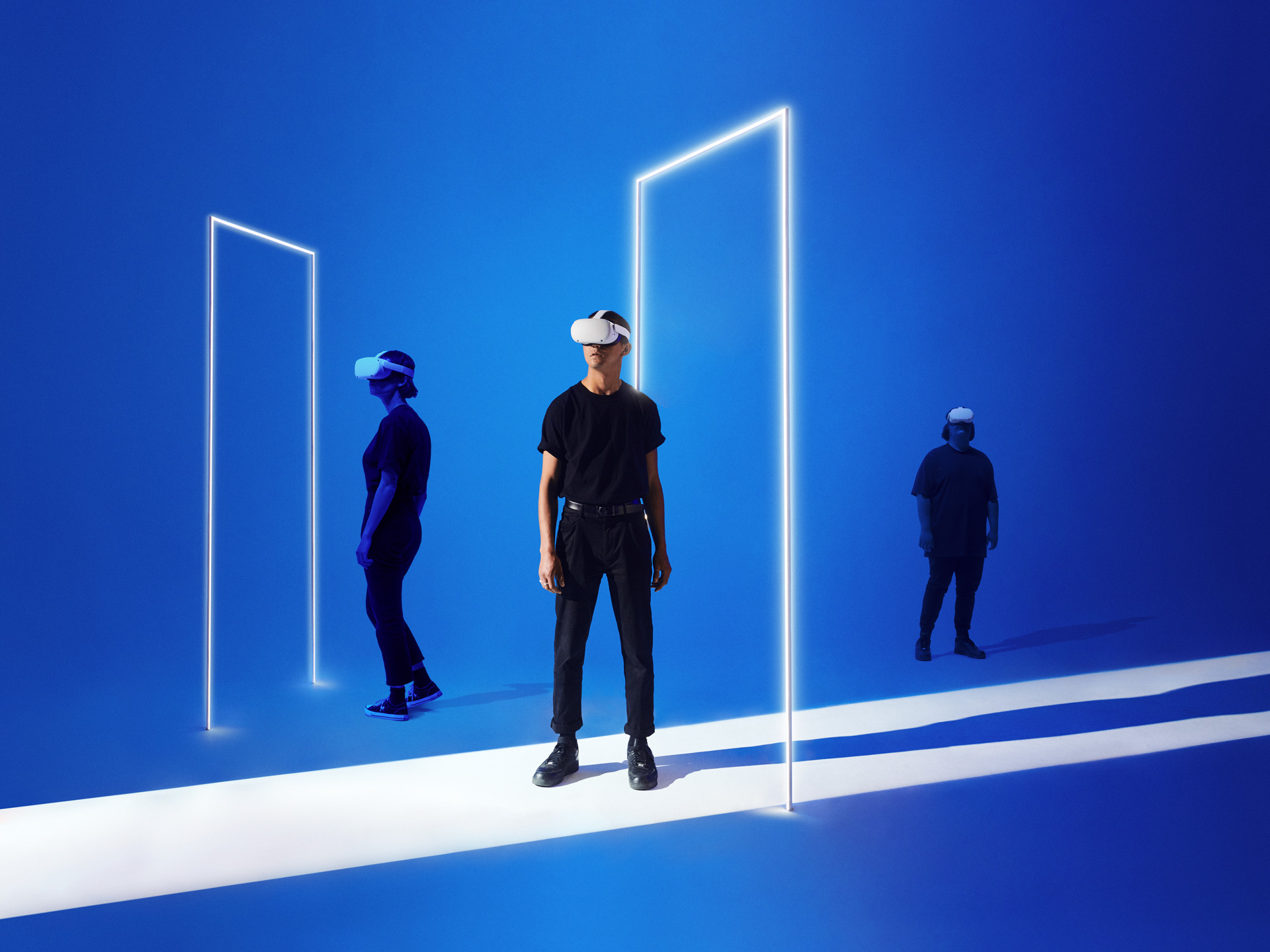 FAQ
How long does the experience last?
The experience is approximately one hour long from the moment your journey begins.

In what language is the exhibition presented?
The experience is presented in English with French subtitles.
Does the experience take place in virtual reality from start to finish?
No, a portion of about 35 minutes of the tour is in virtual reality, the other parts consist of immersive art installations.
Is the experience available to children?
The virtual reality component of the experience is only allowed for individuals aged 13 years and older. However, children between the ages of 8 and 12 can join and access the content by using a tablet rather than a virtual reality headset. Children between 8 and 12 years old must be accompanied by an adult. Please note that the accompanying adult won't be able to supervise or assist the child during the VR portion.
Is photography and filming allowed once inside the exhibition?
Yes. During their visit, we welcome the public to take photos and videos for personal use. Please note, the use of flashes and tripods are strictly prohibited. Press photography (and any photography for professional use) is also prohibited unless authorized and accompanied by a staff member.

I would like to book a group visit; how does it work?
For school visits, please email [email protected].
For corporate visits or group visits of 10 people or more, please call the box office at 514-225-0525 or email us at [email protected].
Can you get a refund or cancel your tickets?
No, we do not provide refunds or rescheduling services. If you have any further questions, please contact: [email protected].
What is the maximum number of tickets that can be purchased per visitor?
You may purchase up to five tickets at a time; if your group is made up of more than 5 people, you may either make a second transaction online or call the box office at 514-225-0525 and we will be happy to assist you.
What happens if I am late for my scheduled check-in time?
If you miss your check-in time, you should speak to a staff member when you arrive for assistance and, if possible, we will try to accommodate you by giving you access to the site upon your arrival or by offering you an alternative departure on the same day.
What if I didn't buy a ticket online in advance?
Visit our online box office and search for the next available time slot, purchase a ticket on your smartphone and return at your scheduled check-in time.

Why is it important to respect the time slot of your ticket?
This allows us to manage the flow of visitors, ensuring that your experience is optimal and safe.
Does my whole party have to be together to check in?
Yes. If you want to experience it together as a group, you must arrive at the same time. If you are planning a visit and are concerned that some group members may arrive at different times, we suggest that you order your tickets separately. We cannot make exceptions.

Where is THE INFINITE immersive experience presented?
THE INFINITE will be presented at Arsenal Contemporary Art, located at 2020 William Street, in the Griffintown district. Please note that the experience does not take place at the PHI Centre.
How do I get to Arsenal for my visit to THE INFINITE experience?
The easiest way to access Arsenal is by public transportation. It is a 10-minute walk from the Georges-Vanier metro station.

Will there be parking available at Arsenal?
There will be a very limited number of paid parking spots available, we suggest that you use public transportation.
Will there be a place where I can store my belongings?
No, there will be no coat-check or lockers on site. We strongly recommend that you not bring any personal belongings with you. Handbags and small backpacks are allowed.
For more information about the location, please visit the Arsenal Contemporary Art Montreal website.
Is the experience accessible to people with limited mobility?
Yes, the experience welcomes visitors with limited mobility. If a visitor requires the assistance of a companion, the companion may enter free of charge, but will not be able to participate in the virtual reality portion of the visit.
Are the virtual reality experience and the audiovisual installation uncomfortable or unsuitable for certain health conditions?
The virtual reality experience is safe and enjoyable, but can be uncomfortable for some people. It is not recommended for people with claustrophobia, heart problems, a history of seizures or epilepsy and/or sensitivity to flashing lights. One of the installations uses stroboscopic lights.

What should I wear?
We recommend that you dress comfortably, especially footwear. For safety reasons, we do not recommend that you wear high heels. We also don't recommend that you wear a skirt or dress, as there are mirrors on the floor in two of the areas.
Are you interested in hosting THE INFINITE exhibition in your city? 

For all partnership inquiries, please contact:
Charles-Éric Beaulieu
at [email protected]
---
THE INFINITE On Tour
More dates to come.
---
Contact Us
For more information:
[email protected]
or 514 225-0525

For all press inquiries, please contact:
Myriam Achard
at [email protected]
This project was created with the participation of the following astronauts and cosmonauts:
NASA
National Aeronautics and Space
Administration

Anne McClain
Christina Hammock Koch
Nick Hague
Jessica Meir
Andrew R. Morgan
Victor J. Glover
Christopher Cassidy
Douglas Gerald Hurley
Robert Louis Behnken
Kathleen Rubins
Shannon Walker
Michael S. Hopkins

Canadian Space Agency

David Saint-Jacques




European Space Agency

Luca Parmitano





Japan Aerospace Exploration Agency

Soichi Noguchi





Mohammed Bin Rashid Space Centre

Hazzaa AlMansoori

Roscosmos State Corporation for Space Activities

Oleg Dmitriyevich Kononenko
Aleksey Nikolayevich Ovchinin
Aleksandr Aleksandrovich Skvortsov
Oleg Ivanovich Skripochka
Sergey Nikolayevich Ryzhikov
Sergey Vladimirovich Kud-Sverchkov
Anatoli Alekseyevich Ivanishin
Ivan Viktorovich Vagner
Thank you to our partners:
Financial Partners
Media Partners
Creative Partners
Corporate Partners
FELIX & PAUL STUDIOS
Felix & Paul Studios is an EMMY® Award-winning creator of immersive entertainment experiences, creating unparalleled, highly engaging and inspired virtual reality, augmented reality and mixed reality experiences for audiences worldwide. Felix & Paul Studios combines a patent-pending technology platform with award-winning creative expertise to produce groundbreaking immersive experiences, including:
Collaborations with world-renowned leaders and performers: NASA, SpaceX, President Barack Obama and Michelle Obama, LeBron James, President Bill Clinton, Eminem, Wes Anderson, Brie Larson, Jeff Goldblum, Bill Murray and many others.
Originals: the Space Explorers series, Traveling While Black, MIYUBI, the Nomads series, Strangers with Patrick Watson and The Confessional series.
Productions with existing franchises: Jurassic World, Cirque du Soleil and Fox Searchlight's Wild and Isle of Dogs. The studio's content is available for distribution in a range of formats including virtual reality (VR), 360-degree mobile, 360-degree dome projection, traveling VR exhibitions and 16:9 video viewing, and a groundbreaking augmented reality (AR) experience is also in production.
With its forthcoming season of Space Explorers: The ISS Experience, Felix & Paul Studios is the only media company recognized as an "Official Implementation Partner" by the ISS U.S. National Laboratory.

PHI STUDIO
PHI Studio focuses its activities on the presentation and curation of immersive works in virtual reality (VR), augmented reality (AR), and extended reality (XR). Recognized locally and internationally for its innovative production approach, technical expertise, and achievements in new forms of storytelling, PHI Studio collaborates with major global industry players and has worked on many award-winning projects, with international presentations in New York, Tokyo, Venice, Frankfurt, Luxembourg, and Salt Lake City, among others. As a pioneer in interactive experiences, PHI Studio pushes the boundaries of immersive projects, with a focus on enhancing the visitor experience through a keen sense of detail and the elaboration of high-quality scenography. With a reputation for close collaborations with artists, creators, directors, and producers from different backgrounds, PHI Studio aspires to be a catalyst of innovation, supporting the development of present and future talent.
TIME STUDIOS
TIME Studios is the EMMY® Award-winning television and film division of TIME, the global media brand that reaches a combined audience of more than 90 million around the world. Built on the foundation of TIME's award-winning visual journalism, which has earned over 52 major awards and nominations in the last seven years, as well as 577 million video streams across all platforms in 2019, TIME Studios harnesses the access and authority of one of the world's most trusted and respected brands to bring premium truth-based programming to television and film around the world, while continuing to push the boundaries of journalism and visual storytelling through new cutting-edge mediums including virtual reality and augmented reality.