The PHI_portal, a cross-border participatory installation, appeared on the PHI Centre's first floor in the spring of 2020. For its initial programming, NBS Studio in Côte-des-Neiges was invited to listening sessions with young artists from other cities, such as Milwaukee and Mexico City. The second season, which took place during Montreal's second lockdown related to the COVID-19 pandemic, resulted in intimate, audience-less connections. The video series The Artists are Present was initiated from those experiences. It is in the context of this series that we invited Michael Lipset to chat with some of the artists of NBS Studio.
When I first moved to Montreal to start a PhD in Hip-Hop based school change, I visited No Bad Sound Studio (NBS) before I even visited my research site. The reputation of NBS and its by-youth, for-youth programming took precedence. The same held true when I returned to Montreal to pass this pandemic winter. I reached out to a friend, multi-disciplinary Hip-Hop artist Jai Nitai Lotus, Director of No Bad Sound Studio, to see if I could come check in. He invited me without reservation but with strict instructions for respecting their COVID guidelines. It was on this visit that I was gifted with a recognizable moment of magic.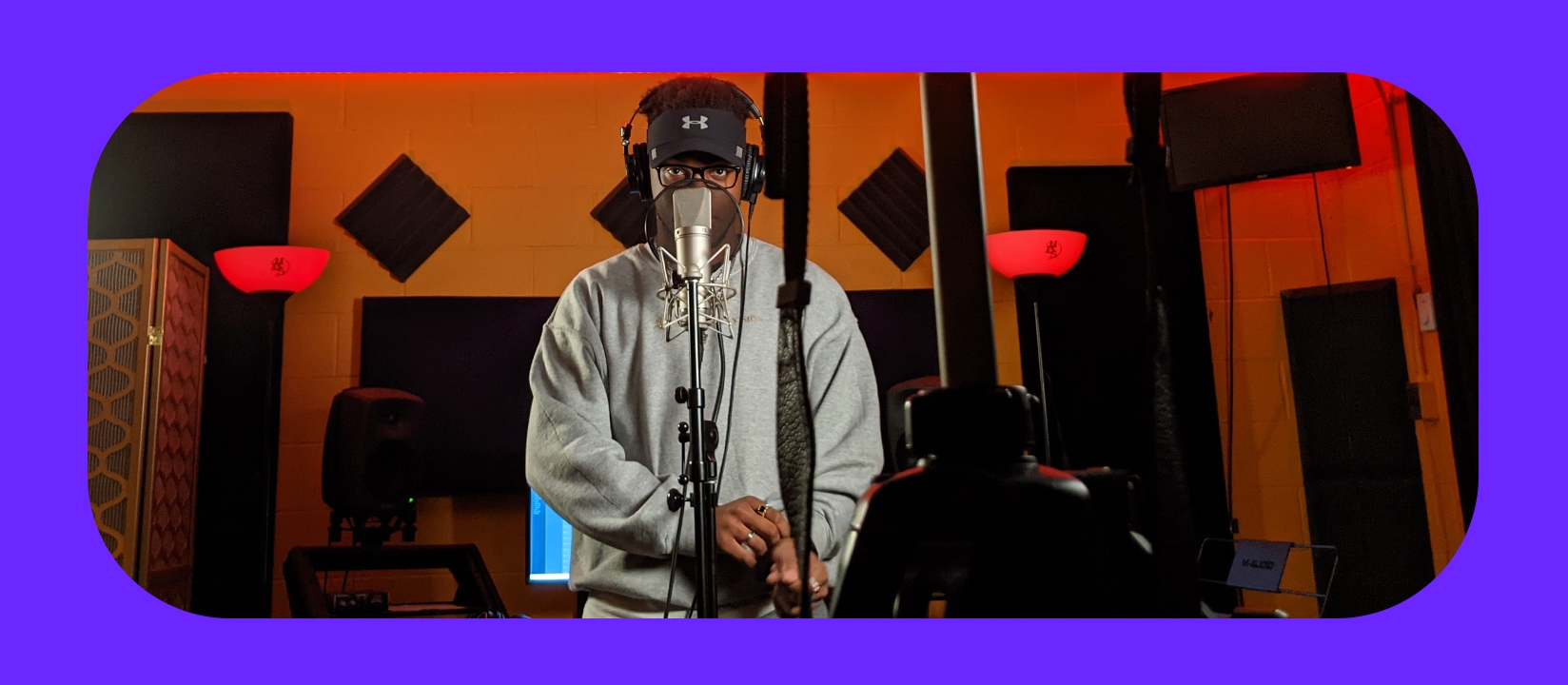 We walked into the recording studio where I saw Yama Sato, a young performing artist, producer and audio engineer whose skills had been forged between the muted walls of No Bad Sound. He worked at one of the studio's recording stations manipulating industry-standard equipment to achieve his desired outcome. Of all the programs I've witnessed over the course of my career in the arts and education, No Bad Sound is the most unique. I often leave wondering how this small operation, comprising two rooms in the basement of an unassuming community center in the heart of Montreal's most diverse neighborhood - Côte-des-Neiges - could repeatedly produce standout artists.

To find out, I interviewed three young artists: Yama Sato, Kamino and XLOWW. These three help operate the studio with Nitai's direction. Over the course of an hour, the three responded to my questions, told me how, as Yama Sato put it, there's "no censorship, no boundaries," and as XLOWW said, "it feels like home."
The three described their own learning and showed me that the secret to No Bad Sound's success lay in a combination of the community of youth, the Maison des Jeunes Cote-des-Neiges, the free-yet-state-of-the-art studios and the program's rich history of mentorship. Together, these ingredients provide a space that values excellence, uplifts experimentation and breeds virtuosity without the exchange of money. Among the youth of No Bad Sound knowledge is power and currency.
A rich tradition of person-to-person learning and growth has always been a part of No Bad Sound. The studio, begun by Lou Piensa, Butta Beats, Vox Sambou and DJ Syde in 2007 has since produced a plethora of well-known artists. Among them are DR. MAD, one of Montreal's most sought-after DJ's, and the up-and-comer Bronko. Doc Mad and his former mentor, Lou Piensa, went on to co-found the now-international Loop Sessions. Doc Mad is also one of Yama Sato's mentors, having worked at NBS for some years and returning on occasion to check-in on the spot that helped birth his own creative journey.
This person-to-person learning is seen today in the studio's by-youth for-youth culture of support. Today's participants say that working with each other is knowledge-sharing. Kamino said, "Since I have to mix [other artists], I started listening to the different things they're doing and bringing that into my own art." The sharing of styles and skills produces a comfort necessary to the artistic process. According to XLOWW, "It's important to find places like NBS studios where you can vibe with the producer on the spot." This comfort makes it more possible for artists like XLOWW, Kamino and Yama Sato to willingly engage in discomfort and critique.
Of the studio's no-censorship policy, Sato said, "If you're doing something weird, then let's see how far you can take it." The young people of NBS know when something works and when to tell someone if something's wack. With no strings attached to their creativity except the expectation that they pass on knowledge gained, the youth of NBS push themselves and each other into unexplored territories, encouraging what works and pulling each other back from edges that don't.
"If you're doing something weird, then let's see how far you can take it."
This exploration allows the artists to achieve parity among artistic variables that may seem discordant. When asked to describe what they enjoyed about each other's work, Kamino, Yama Sato and XLOWW doted on their peers' abilities to do the 'weird' in appealing ways. They acknowledged the diversity of Cote-des-Neiges as contributing to creativity in the studio, which makes for a blending of various cultures, languages, risks and rewards. Yama Sato explains this blending as "different melodies and also different stories.
People who come from different cultures have different ways of painting imagery." As well, a culture of excellence means these risks get held to a high standard of quality. Yama Sato went on to say, "We're here to work because we're very serious about this. For those of us who use this space as a studio, it's inspiring to be in that room." The unique blending of cultures within NBS has not just been an input to the artists' creative process, but is now part of the process itself. While speaking to Yama Sato, XLOWW said, "You always go for the routes that you wouldn't expect." As one of Sato's mentees, Kamino has adopted this tinkering, exemplifying the culture of learning that remains central to NBS.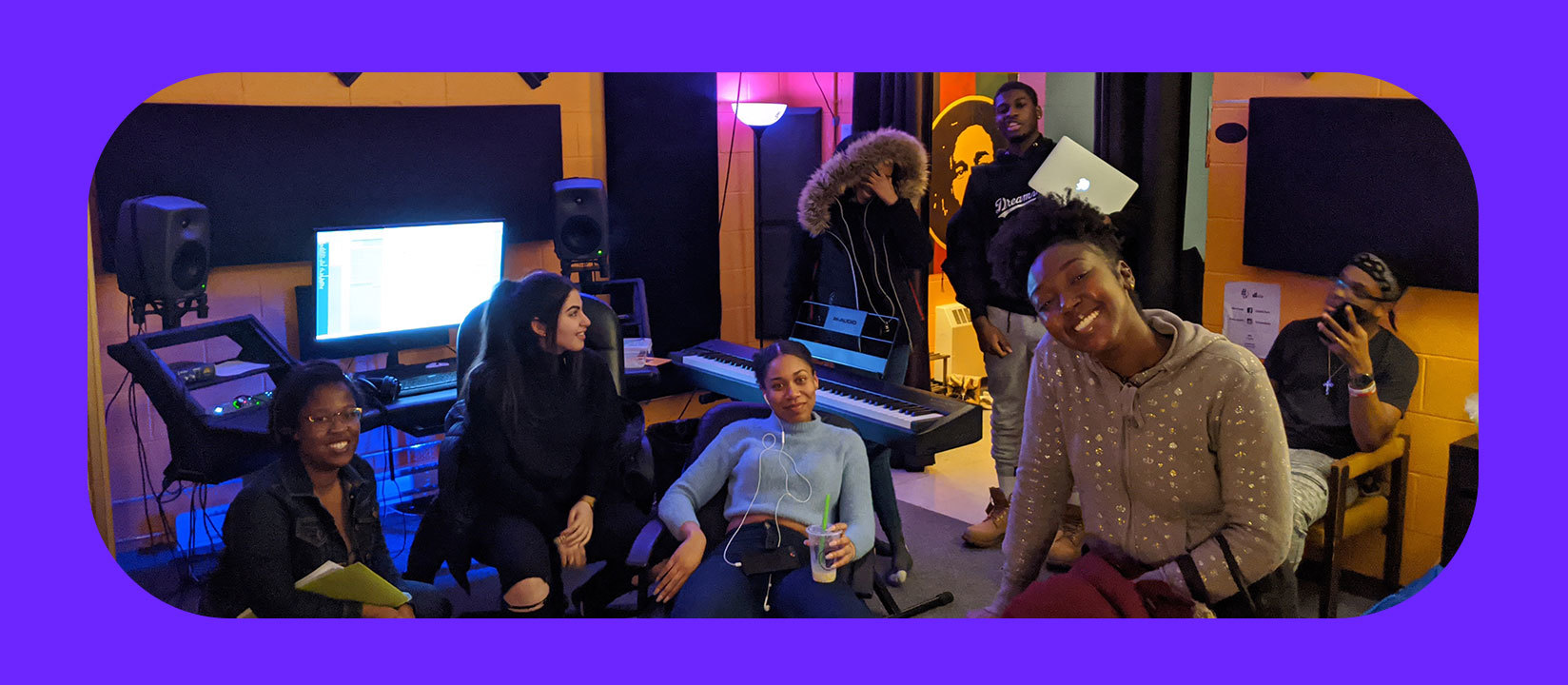 The NBS culture of mentorship has evolved to embrace a "for-youth by-youth" practice, empowering its young artists to be active teachers and mentors to each other. Yama Sato commented on this duty to his and his peers' sound, "When the thought of giving back is engraved in your brain it makes you think about yourself and what was given to you. What was given to me was freedom and I feel like my purpose is giving someone else freedom, because music is something that helped me speak."
At NBS, attendees can expect to both learn and teach. In most studios, Kamino says, the opposite is true. A producer's secrets become their signature sound, something sought-after and highly valued. Instead, "If you come here long enough, you have no choice but to learn. You'll want to learn," Kamino says.
Today, NBS produces the We Out Here Live series, which serves as a point of recognition in an artist's growth process. To truly grasp the impact of NBS on the Montreal, Canadian and international music scene, however, I've curated a list of work from the studio below.

When asked what they wanted people to know about NBS, Kamino and Sato said, "That it's accessible," and, "It's a place to be you." Follow NBS on instagram at @nbs.studio and get on the waitlist for studio time at www.nbsstudio.ca

A text by Michael Lipset
Michael is a scholar, author, educator, artist, creative producer and Hip-Hop head. His work sits at the intersections of critical arts pedagogies, liberatory UX design, education change, pushout re-engagement and social justice. He holds a PhD in culturally sustaining school change from McGill University and an EdM in the Arts in Education from the Harvard Graduate School of Education. He is a course lecturer in the Department of Integrated Studies in Education at McGill University, the Director of Social Impact at the High School for Recording Arts and has been researching, operating and collaborating with youth studio production and recording programs all over the world for the last decade.
The Artists

are

Present
The Artists are Present is now available to stream in its entirety. The video series invites you to experience a piece of the PHI_portal through the lens of the artists involved in season 2. A big thank you to all of the local and international artists that allowed their creativity, vulnerability and light to flow through the PHI_portal in 2020.